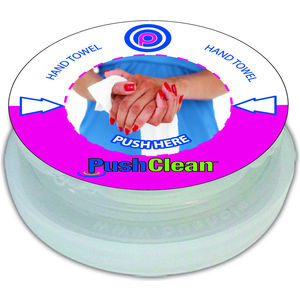 An exciting the Push Clean wipe. PushClean is a compressed natural bamboo cloth housed in a unique 35mm diameter container. The wipes are kept dry in the centre of the container with a cleaning solution in the outside portion of the container.
By simply pressing the centre of the container the liquid is released into the bamboo wipe which expands out of the top of the container in 4 seconds.
The wipe can then be be removed, unfolded to its full 22cm x 24cm size and used.
The label on the lid can be printed up to full colour to your own specification.
Pushclean can be supplied with a wide variety of solutions for a vast array of uses:
Pet Wipe, Baby Wipe, Intimate Wipe, Antibacterial Wipe (Hand), Make Up Remover, LCD Screen Wipe, Dashboard Wipes