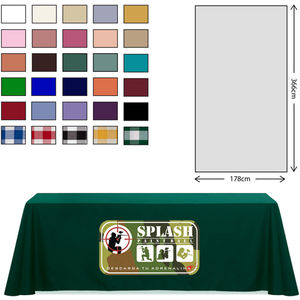 These custom printed tablecloths are a great way to dress your table top and fashion a professional impression of your company at your next show, conference or exhibition. They have a huge branding area and are printed in stunning full colour to make your brand stand out from the crowd!
You can use them on so many occasions, as they can be machine washed at 40 degrees and re-used over and over making them cost effective for hotels, restaurants and exhibitors. Huge range of styles and sizes to choose from included a full coverage, full colour printed version. Get them in just 3 days on express!
C3015 Exhibition Linen Table Cloth 178 x 138cm
FROM

£52.49
Loading...
Loading...